16 Jan

Goodbye, Atlay
Yesterday we said good-bye to Atdelius "Atlay" Washington, the singer in Jazz Caravan, my band. She died of leukemia last Sunday. Singing jazz in a band was only a fraction of who she was. I met her 14 years ago at a rehearsal in somebody's living room. A guitar player I knew was putting together a band for a gig, but neither the gig nor the band materialized after that first session. None of us was particularly good, except the singer. Good Lord, I'd never met a singer like her before: it wasn't that her voice was beautiful and impressive — smooth and full of emotion. It was more that, when she sang, she was absolutely elated. She beamed, she shone, she lit up a room.
I made sure to get her number, though I suspected that she was too good for any project I might put together. Still, several years later — after I had established a band of my own — I gave her a call. She said she was available and, after she auditioned for my band, she said she'd be happy to join. I was dizzy with disbelief. How or where could I ever have found another singer as grand, as classy, and as nice as she?
Most musicians are flaky — the cliche is too true. And singers, oh my. If they are good, they often have an attitude and, sorry to say, are very high maintenance. But here was a singer who not only did her homework, came prepared, was extremely talented and joyous when she sang, but also was the sweetest, most cooperative band member. The other band members and I often shook our heads in wonder and agreed that we were very lucky.
Atlay had such presence on stage, such poise, that she was never harassed or pursued by drunken, smitten men the way most female band singers are. Although she was warm and most congenial, she was also thoroughly classy — and that class, I think, kept the fawning men at a distance. The moment she started singing, she centered all of her passions there — and you knew then that there was nothing half-way about this woman. You can't mess with somebody like that. You can't get in that person's way. You just have to step back and let her fly. When she sang, she flew.

We last performed with her at a concert in October. It was a gorgeously autumnal day and Atlay was in great form. She blew the audience away. You'd never have guessed that she was in pain and battling for her life.

Her memorial service was standing room only and, though I wanted to celebrate her memory, I dreaded going because I knew it would be powerfully emotional. It was made all the more difficult by the fact that more than one member of the choir — which Atlay had directed — was intermittently in tears. Most painful of all was watching Atlay's seventeen-year-old son hold up through it all. At one point he played Beethoven's Fur Elise on the piano in tribute to his musical mother. I don't know how the kid made it through without breaking. Fortunately, he has a wonderful father, who was by his side the whole time.
The theme of the service was, predictably, that Atlay is in a better place now, gone to her glory. I know that Atlay was content with this understanding, which is why she wrote her own obituary — read to the congregation by one of her nieces. Still, no matter how satisfied some may be in their belief that death is ultimately a reward, I wanted Atlay back. She's gone too soon.
You could see here, among her congregation, why Atlay sang the way she sang. She was electrified by the holy spirit. For her, music was for her Maker. And her congregation tried to make that point clear as it sang her to higher ground. I did appreciate their efforts, I did enjoy their music, and I did envy their certainty that, in the end, Atlay was ready and willing to go simply because it was her time.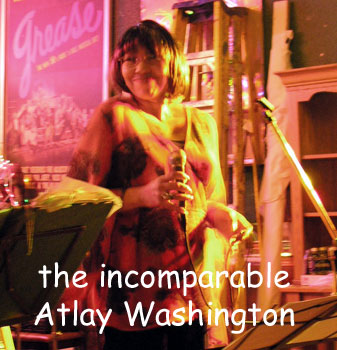 I don't know that I will have such grace when my time comes, which is to say that our lovely, talented friend sets an example even after she's gone. We have her music and it will give us some solace but, looking back even now, I see her at a distance, like a friend waving from atop a very high hill. I know who it is but I can't see her in any detail — and some part of me panics as I wonder how or if or when I can close that distance and bask in her smile once again.
Listen to this beautiful woman sing: La vie en rose
More selections here: Jazz Caravan website